This year's Summer Academy of Electronic Music, directed by Professor Jeffrey Stolet at Future Music Oregon, welcomed 5 faculty members from the Central Conservatory of Music in Beijing, the Shenyang Conservatory of Music and the Sichuan Conservatory of Music.  The faculty members, along with students from their schools and from Peking University and the National Academy of Chinese Theater Arts, immersed themselves in Kyma, recording techniques, sound synthesis, and composition in a two week intensive seminar based on Professor Stolet's text, Kyma and the SumOfSines Disco Club, now available in both English and Mandarin Chinese.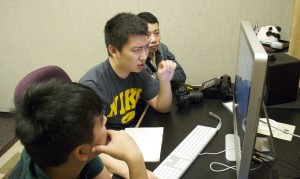 Professor Stolet was assisted this year by three of his current and former graduate students: Chi Wang, Jon Bellona, and Hua Sun (see photo on left).
The Summer Academy culminated in a final concert featuring 20 compositions, all completed by students over the course of the two-week course.
If you missed the summer academy, you still have a chance to learn about Kyma.  During the fall semester 2012, Professor Stolet and his former masters degree student Chi Wang will be presenting Kyma seminars at the Central Conservatory of Music in Beijing, the Shenyang Conservatory of Music and Sichuan Conservatory of Music.