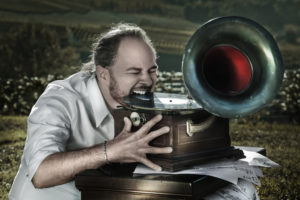 Composer/sound artist Gianluca Verlingieri utilized Kyma in two new pieces featured in two different events in Italy and UK: a world premiere fixed-plus-live electronics performance in Florence at the Tempo Reale Festival 2018 in May and a fixed-media acousmatic performance in Manchester at the EASTN-DC Week in late June 2018.
Verlingieri presented the world premiere of his 30-minute Requiem da Ballo for live electronics, poet, fixed-media sound projection and custom-made "loudspeaker pipes" in Florence on 26 May at Tempo Reale, the institute founded by Luciano Berio, on a concert named Klang Musica Sperimentale #10 Parola.
The second performance, Suite from Requiem da Ballo, will be 25-30 June 2018 at the EASTN-DC MANCHESTER Festival in Manchester UK. Verlingieri will perform live sound projection in 32-channel surround sound using the MANTIS diffusion system in the Cosmo Rodewald Concert Hall.
Verlingieri teaches electroacoustic composition at the "G. F. Ghedini" State Conservatory of Cuneo, Italy, where he also coordinates the Department of New Technologies and Musical Language.